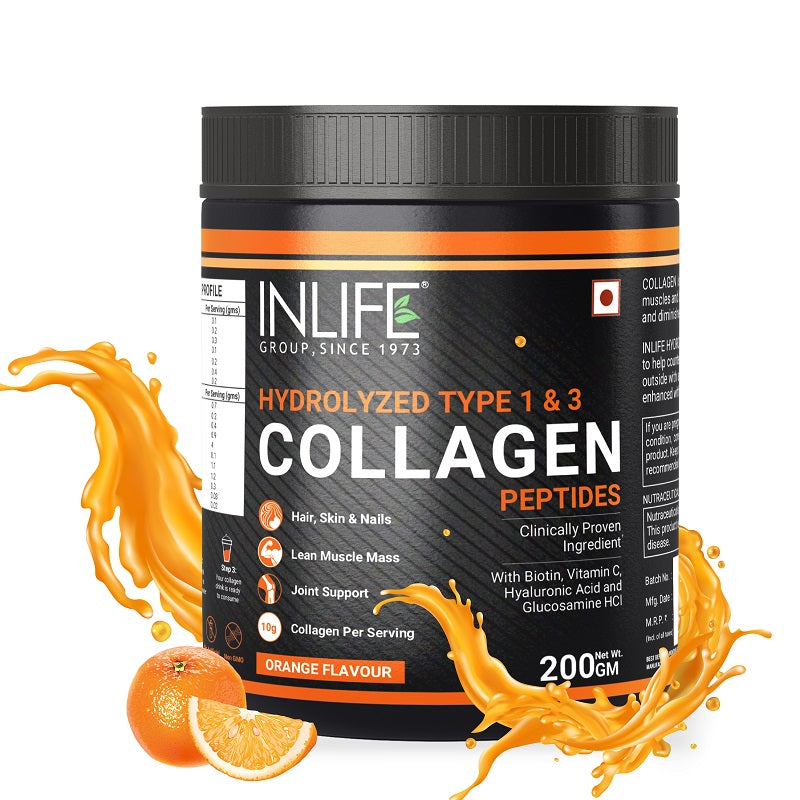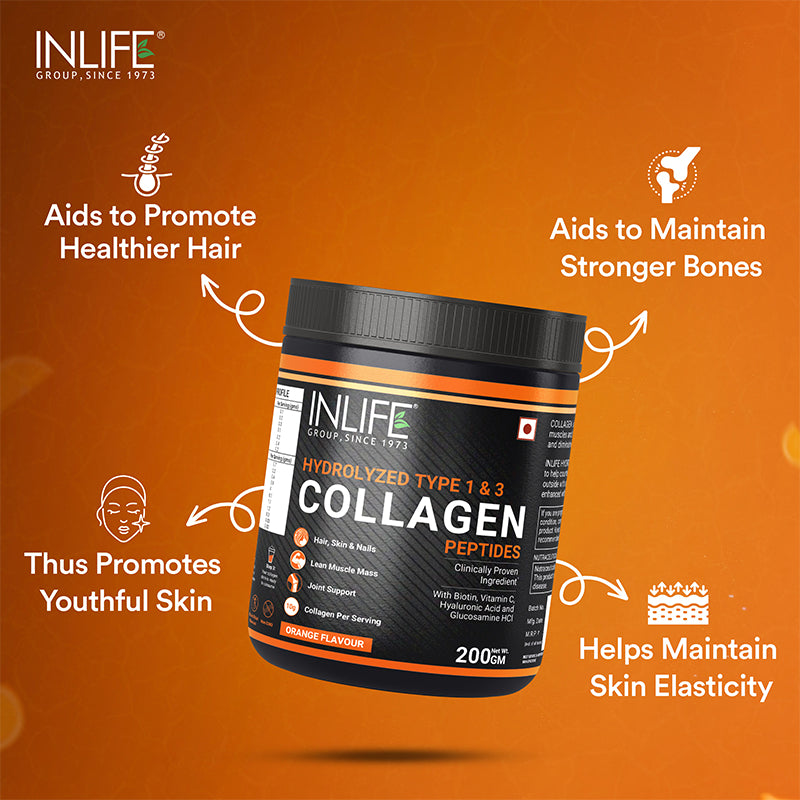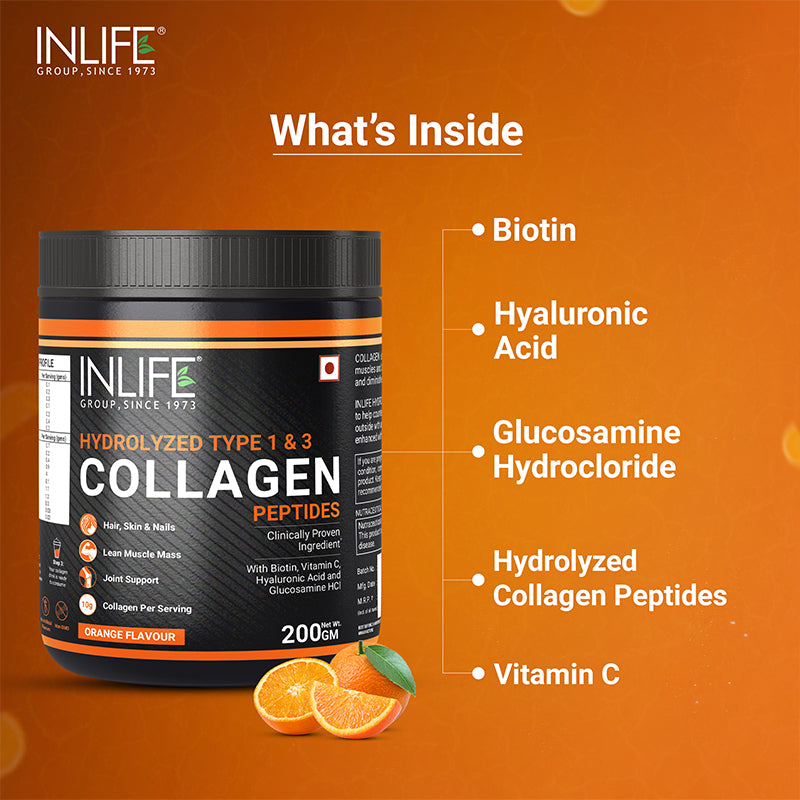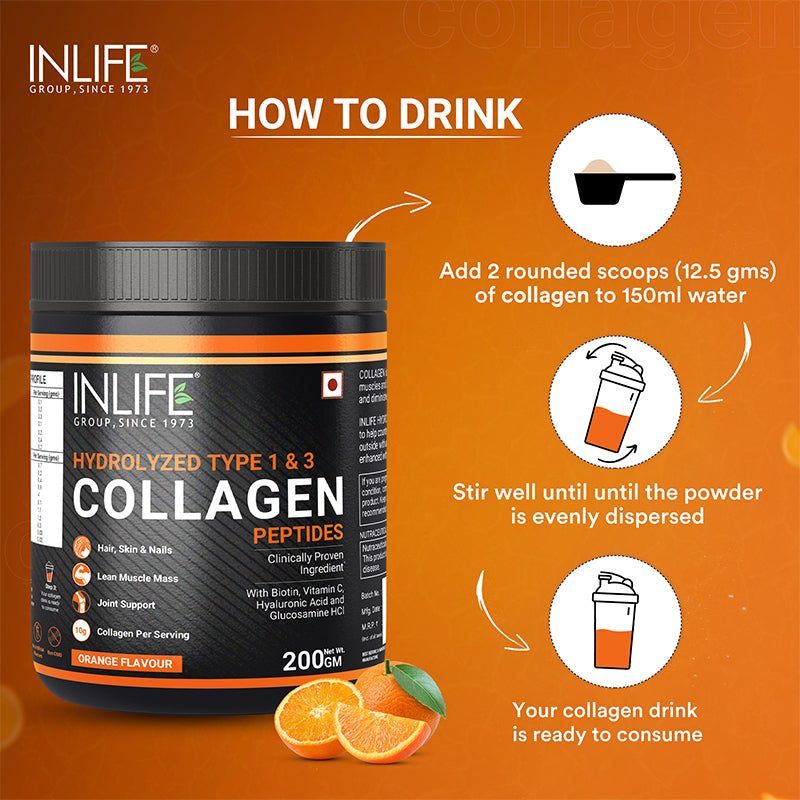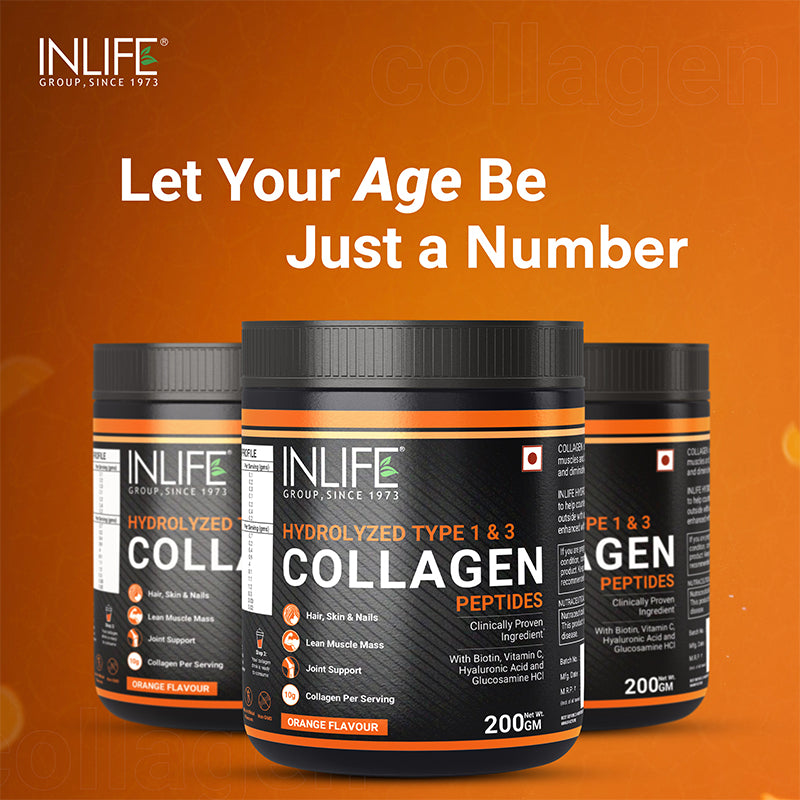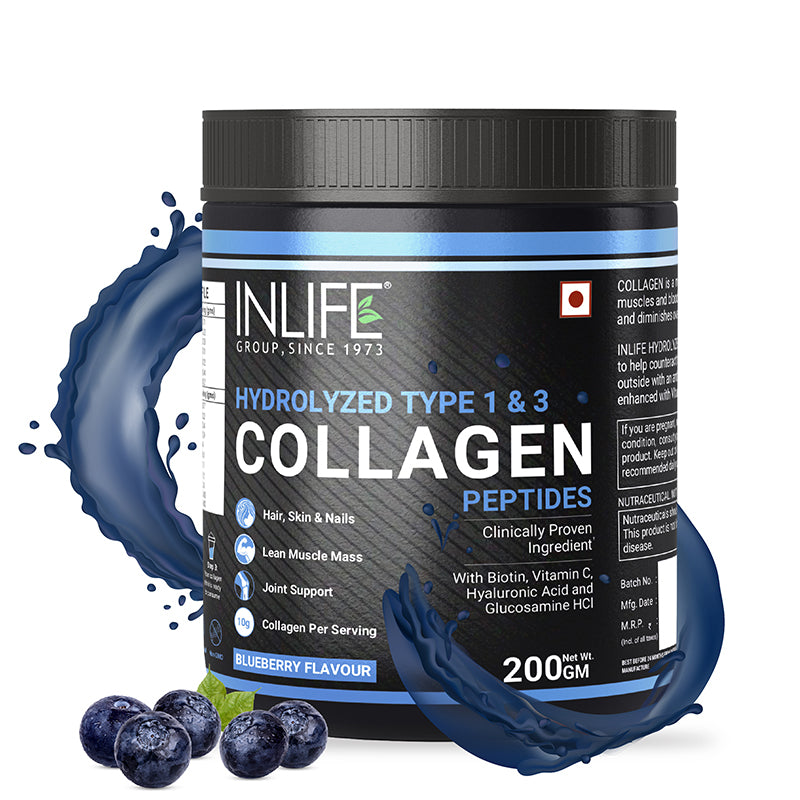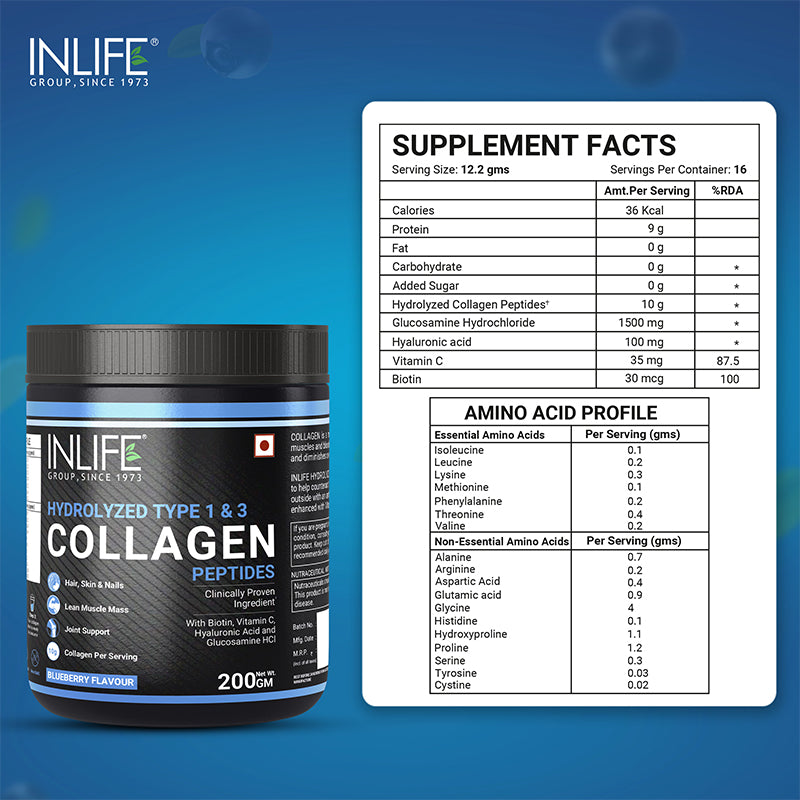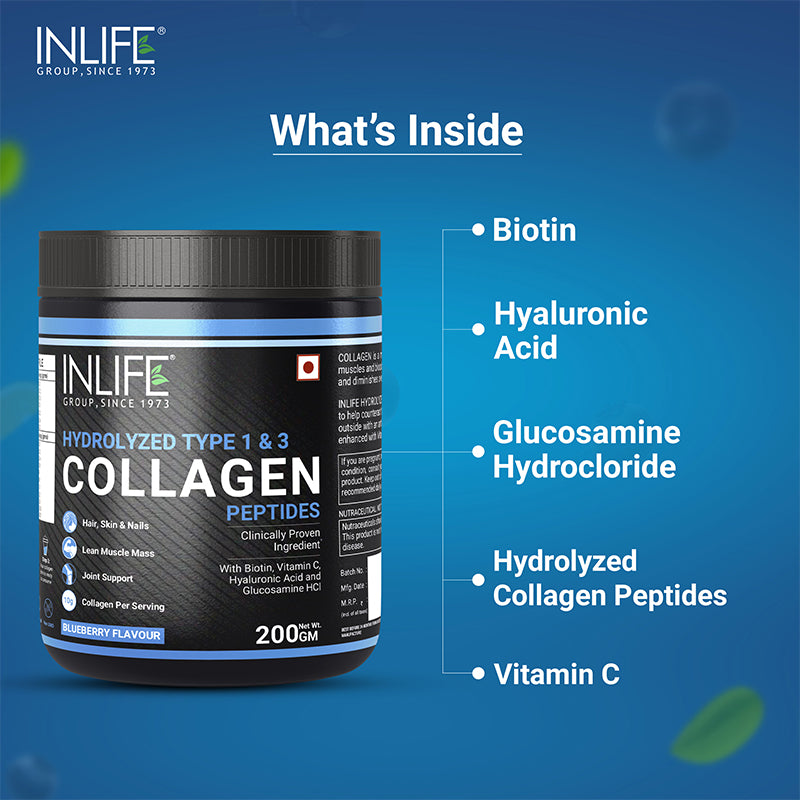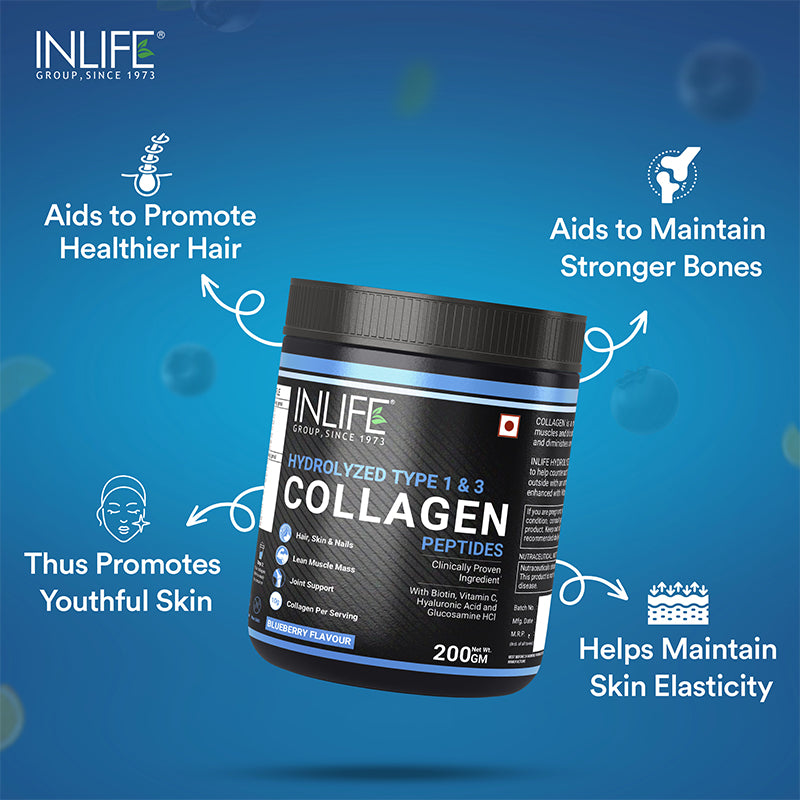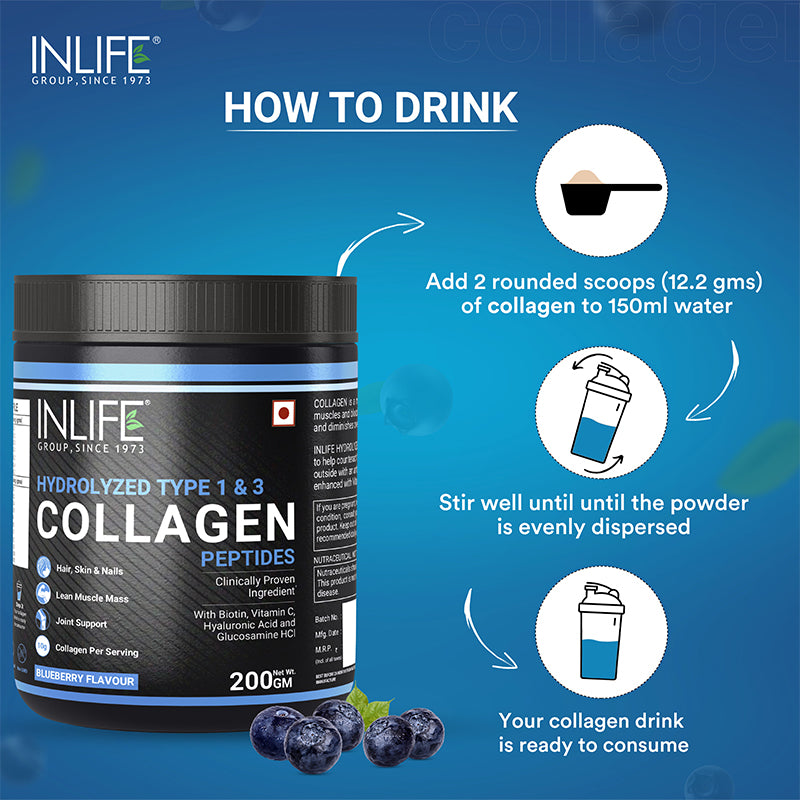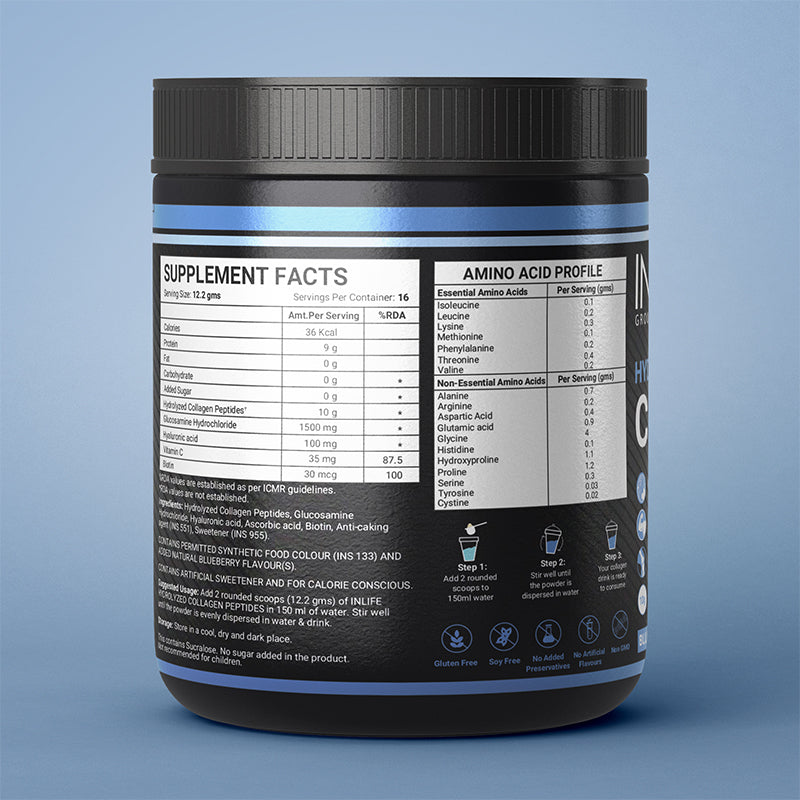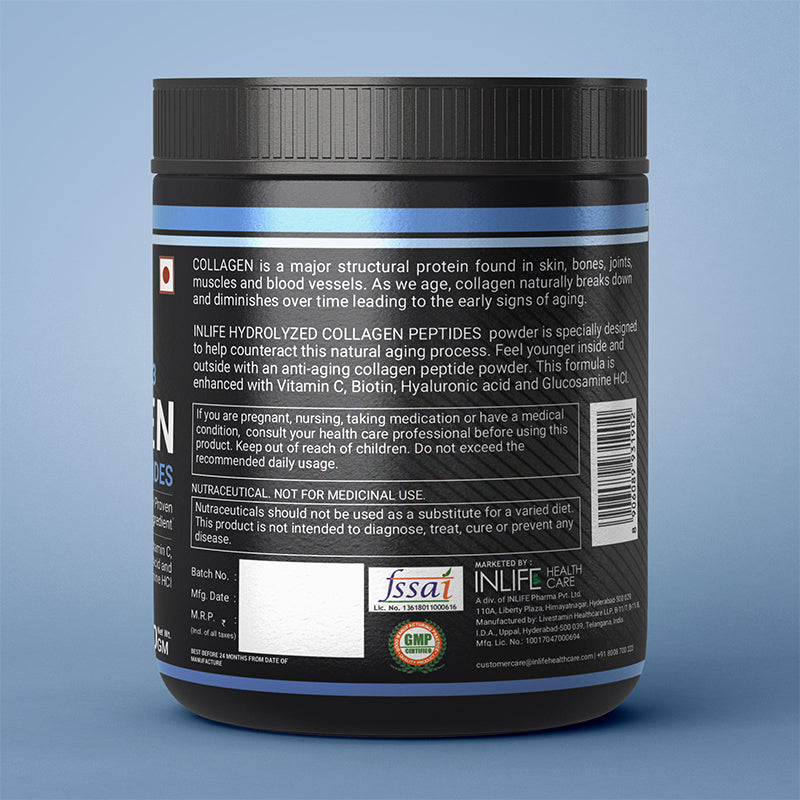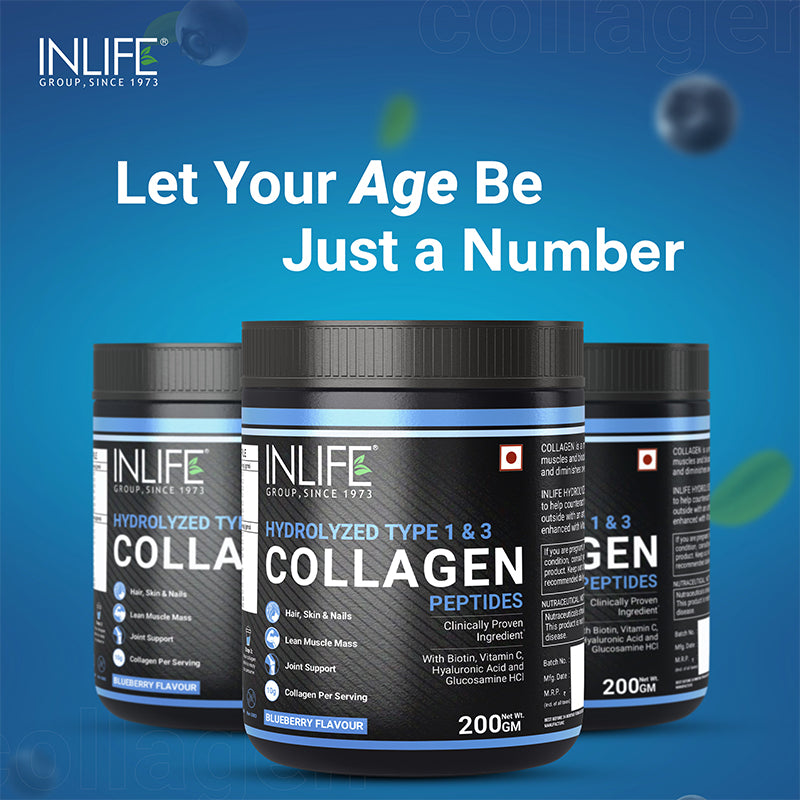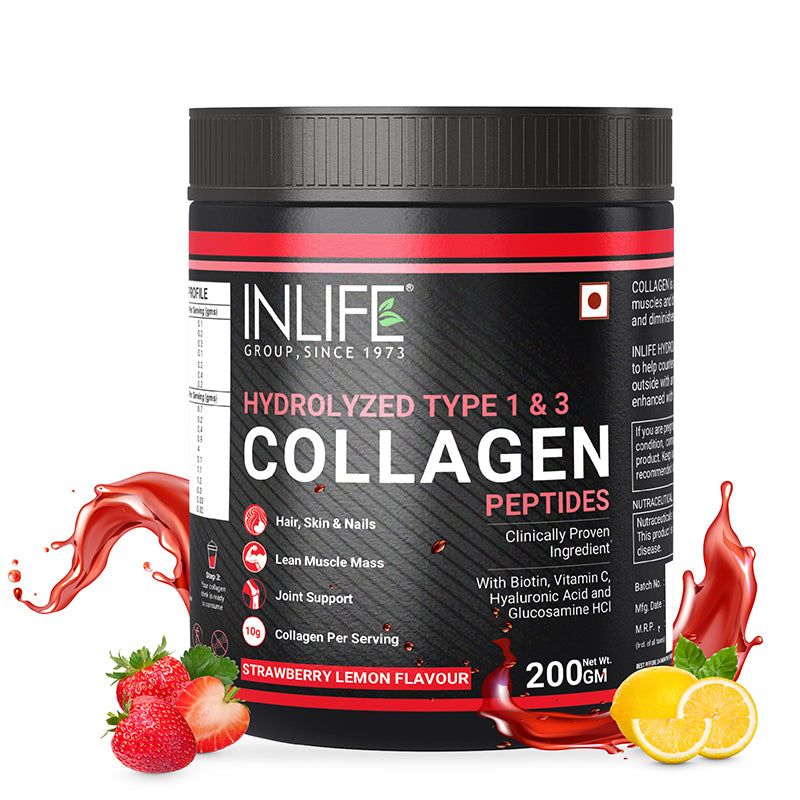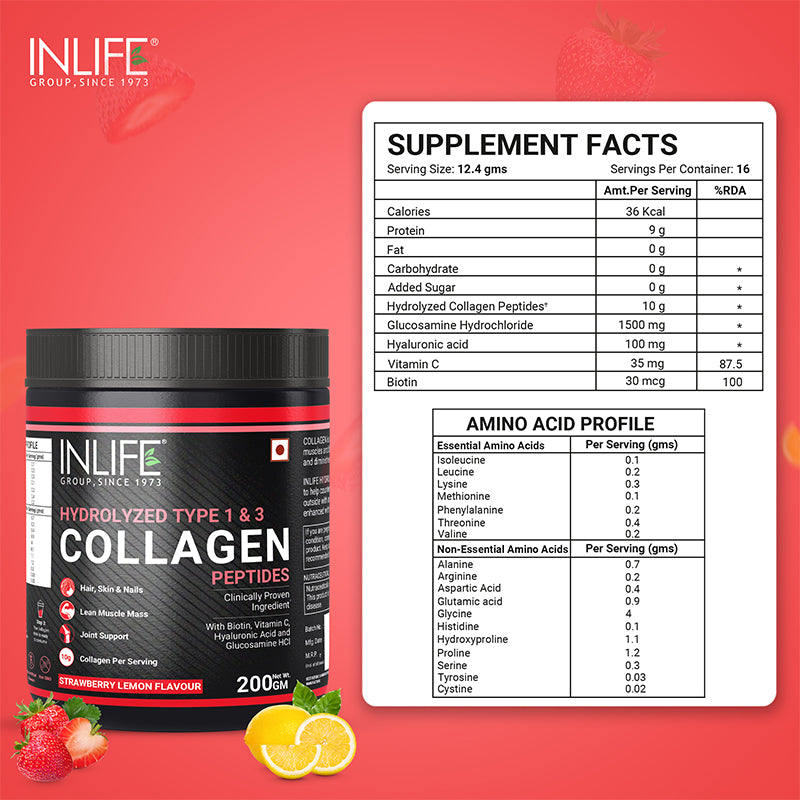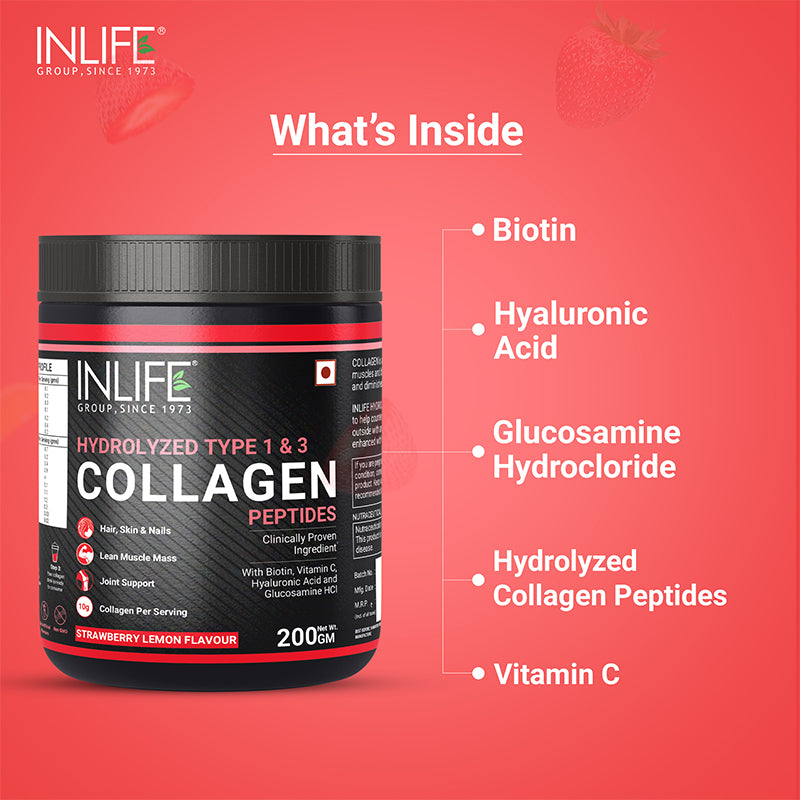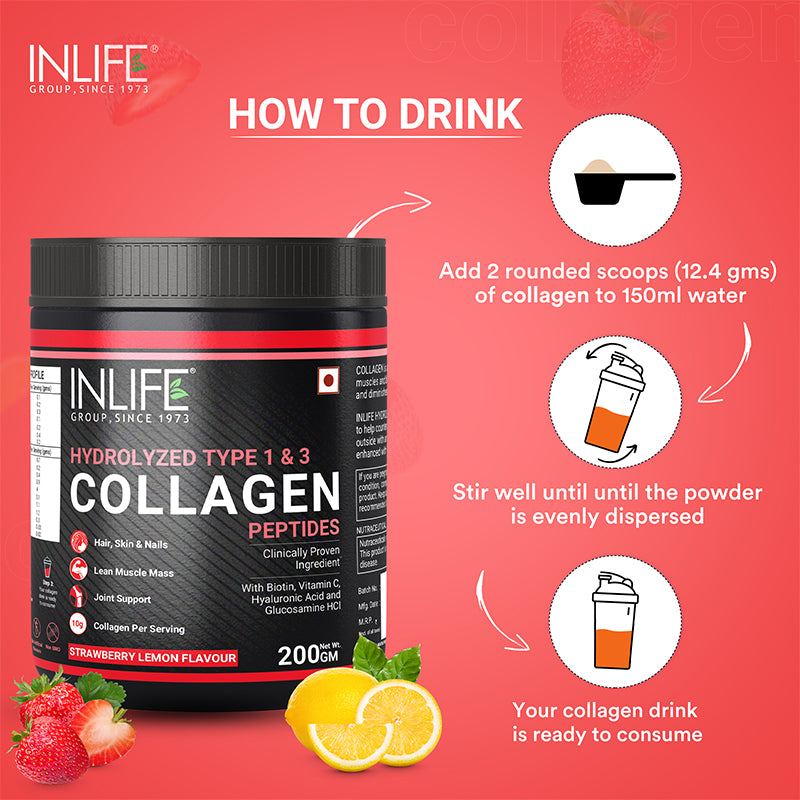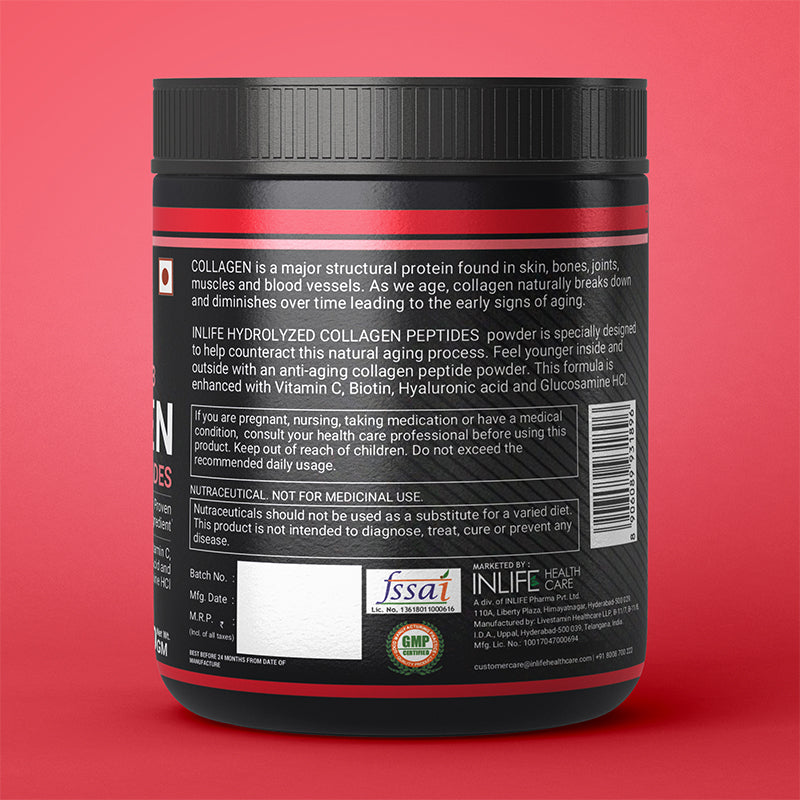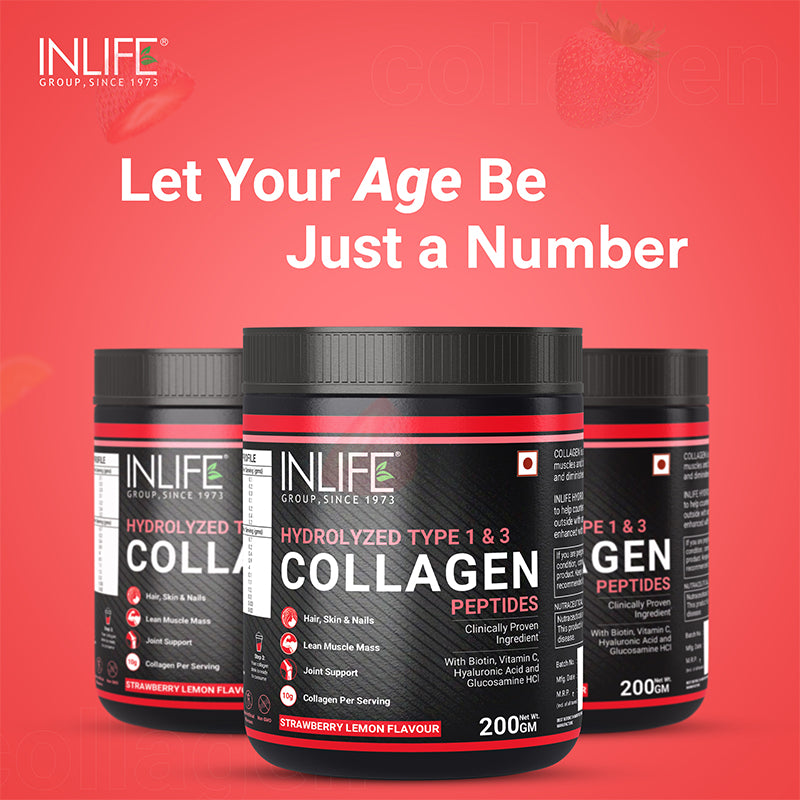 INLIFE Hydrolysed Collagen Peptides with Biotin, Hyaluronic Acid & Glucosamine HCl, 200g
Save 55%
Free Delivery on Orders Above Rs. 499

FSSAI: 13618011000616
Collagen, a type of protein, helps in defining the structural part of the body. It is the most abundant protein in the body, found especially in bones, skin, muscles, eyes, nails, ligaments, tendons, joints, and hair.

It is the primary structural compound of all tissue in the body, providing strength, flexibility, and power for day-to-day activity.

As you age, the supply of collagen to various parts of the body decreases and it stops regenerating itself. This gives rise to ageing problems like wrinkles, joint pains, baldness, weak nails, etc. Hence, the need for collagen supplement becomes essential.

A proper and adequate supply of collagen protein will helps promote joint, hair and skin health

INLIFE Hydrolyzed collagen peptide is one of the highest quality collagen protein supplements. It is enriched with Glucosamine HCL, Hyaluronic Acid, Vitamin C and Biotin. It is free from harmful chemicals, gluten, dairy, sugar or soy.

In Journal of Dermatol 2019 January edition, it has been concluded that oral collagen supplements also increase skin elasticity, hydration, and dermal collagen density. Collagen supplementation is safe with no reported adverse events.

A review of the research into collagen supplementation found that using hydrolyzed collagen supplements helps promote joint health and potentially restores some bone density in people with osteoporosis and osteoarthritis.

INLIFE Hydrolyzed collagen peptide comes in a pack of 200 grams

BENEFITS

The formulation is enriched with ingredients like Glucosamine, Hyaluronic acid, which help in enhancing the day to day activity by improving joint health.

Glucosamine Hydrochloride

Glucosamine is an organically occurring substance which is found in bones, shellfish, and bone marrow. It aids in building glycosaminoglycan's, specialized molecules which are generally found in tendons, cartilage, ligaments, and the thick fluid that surrounds and cushions our joints. Glucosamine supplementation may be effectively helpful for stiff and painful joints.

Hyaluronic acid

Hyaluronic acid, also known as hyaluronan, is a clear, gooey substance that is naturally produced by your body found in your skin, connective tissue and eyes. Its main function is to retain water to keep your tissues well lubricated and moist. It is well known for its skin benefits, reducing the appearance of fine lines and wrinkles and speeding up wound healing. It can also help relieve joint pains.

Ascorbic Acid

It is water-soluble and found in many fruits and vegetables, including oranges, strawberries, kiwi fruit, bell peppers, broccoli, kale and spinach. It has been linked to many impressive health benefits, such as aiding to enhance antioxidant levels, promoting radiant skin, reducing blood pressure, better heart health, immune health and improving iron absorption.

Biotin

Biotin is a member of the Vitamin B 7 or H family that is an essential component of cell growth that helps in the production of fatty acids and processing of fats into amino acids.

Some of the rich sources of biotin include egg yolk, liver, avocado and salmon. It is often added to oral hair growth and as a supplement to nourish hair thinning and help in promoting hair growth. It also helps in improving the quality and texture of skin, hair, nails and promoting healthy functioning of nerves, eyes, lowering cholesterol, aiding weight loss and controlling blood sugar levels.

Certification

INLIFE Hydrolyzed Collagen Peptides is manufactured in an FSSAI, Ayush (Herbal/Ayurvedic), WHO-GMP, ISO 22000:2005 certified manufacturing facility under GMP guidelines following best practices and industry-standard guidelines to ensure safety, accuracy and quality of the product.

Unique Formula

INLIFE is one amongst the best brands for quality Hydrolyzed Collagen Peptide supplements in India. This unique formula is designed to meet all your needs of skin, hair and joint health. Ingredients like Collagen, Glucosamine and Biotin are well-known performance boosters which, along with others like Hyaluronic acid, vitamin C works very well in aiding to enhance the skin, hair texture, stamina and strength to perform day to day activity.

Increased Absorption

The presence of vitamin C gives an advantage of increased absorption and enhanced bioavailability of the product. Hydrolyzed Collagen Peptide is best to ease out all the pain and discomfort that comes with age, weight, deterioration of the joints in the body.

Premium Quality Ingredients

This dietary supplement contains premium quality ingredients resulting in an effective formulation that is carefully manufactured in GMP certified facility following WHO-GMP guidelines, so you can be sure you are safe. We offer the best quality products for the best value.

Pairs Well With

If you are aiming for glowing skin and stronger hair, then along with collagen, INLIFE Advanced Hair, Skin and Nails is the right choice for you. The Advanced Hair Skin and Nail supplement is a combination of ayurvedic ingredients and 28 essential vitamin and minerals key ingredients which will support your natural beauty from within.

Suggested usage - Add 2 levelled scoops (12.5 gms) of INLIFE Hydrolyzed Collagen Peptide in 150-100 ml of water. Stir well until the powder is evenly dispersed in water and drink. To get the best results, take 30 minutes before breakfast or as directed by your healthcare professional.

Warning/ Contraindications: Consult your healthcare professional if you are pregnant, nursing, taking medication or have a medical condition, before using this product.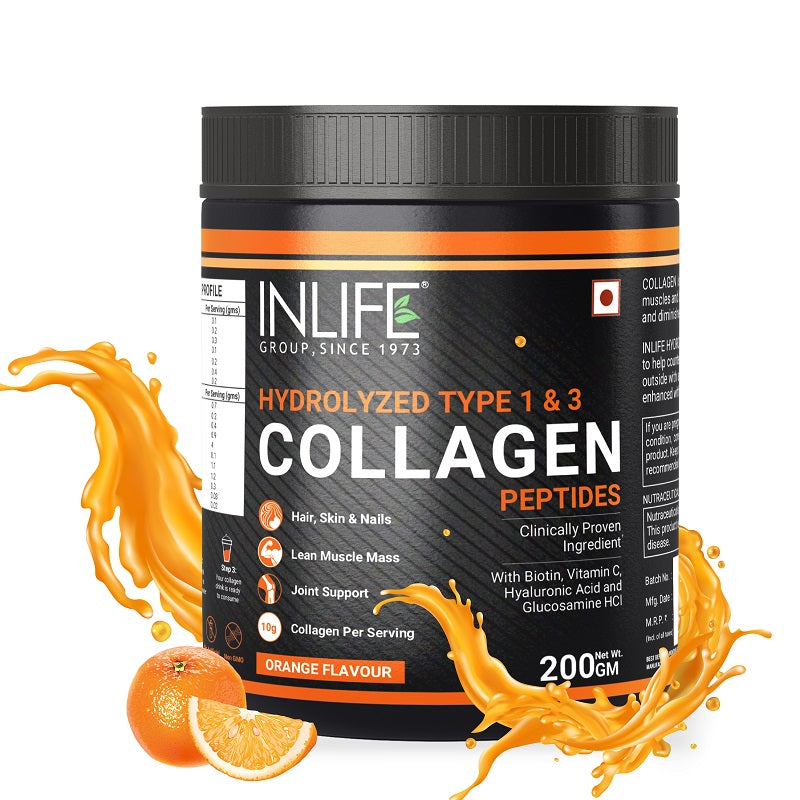 INLIFE Hydrolysed Collagen Peptides with Biotin, Hyaluronic Acid & Glucosamine HCl, 200g
Sale price

Rs. 899.00
Regular price

Rs. 1,999.00
Choose options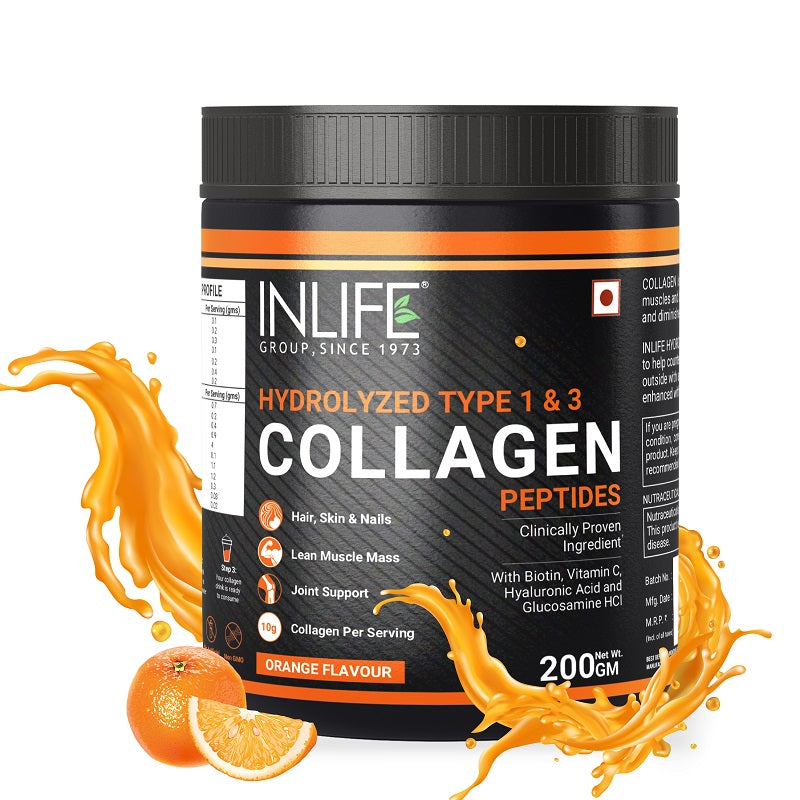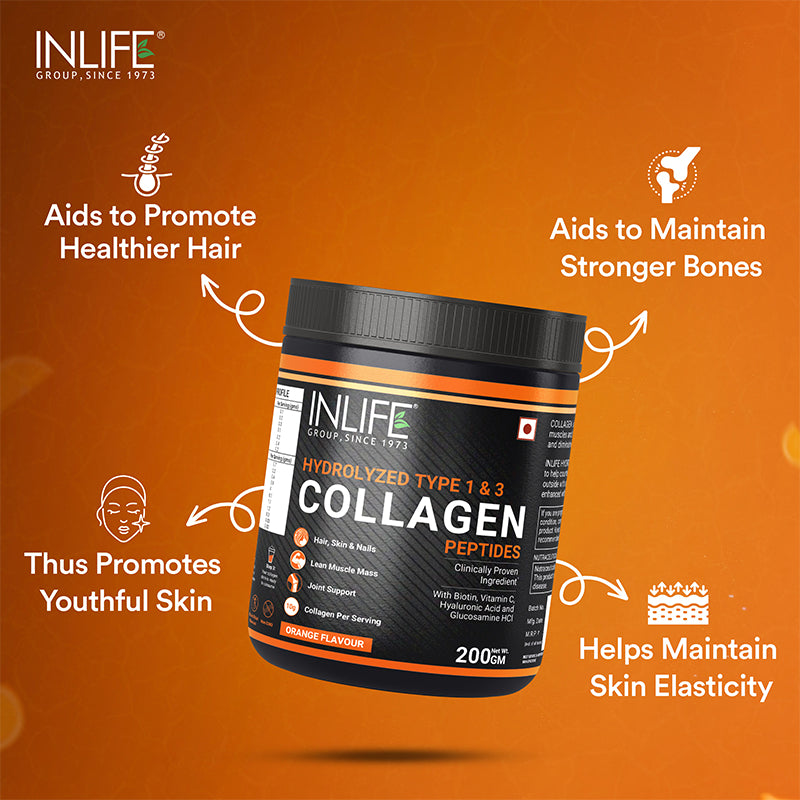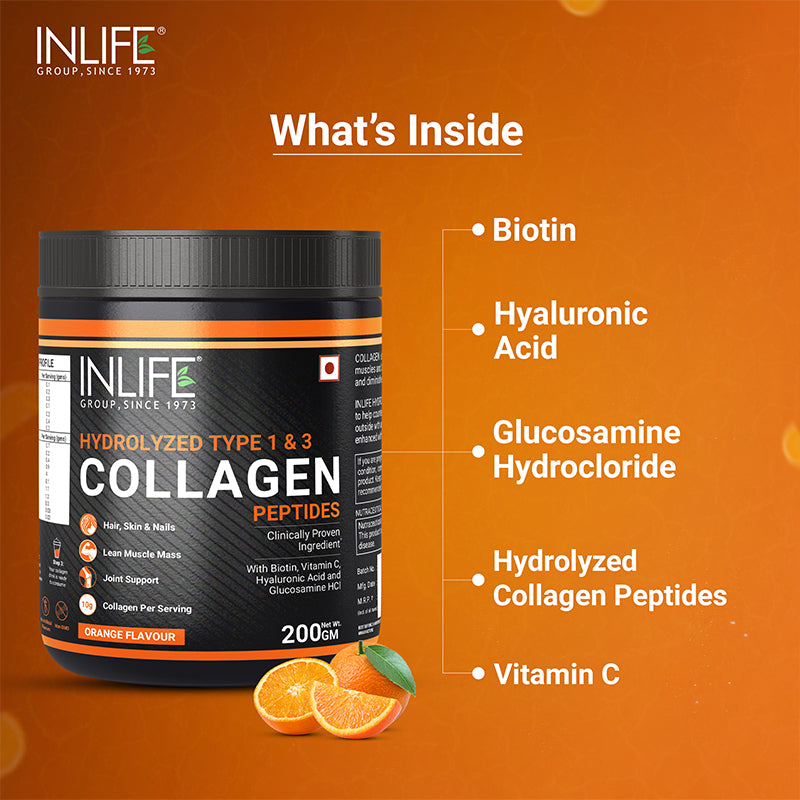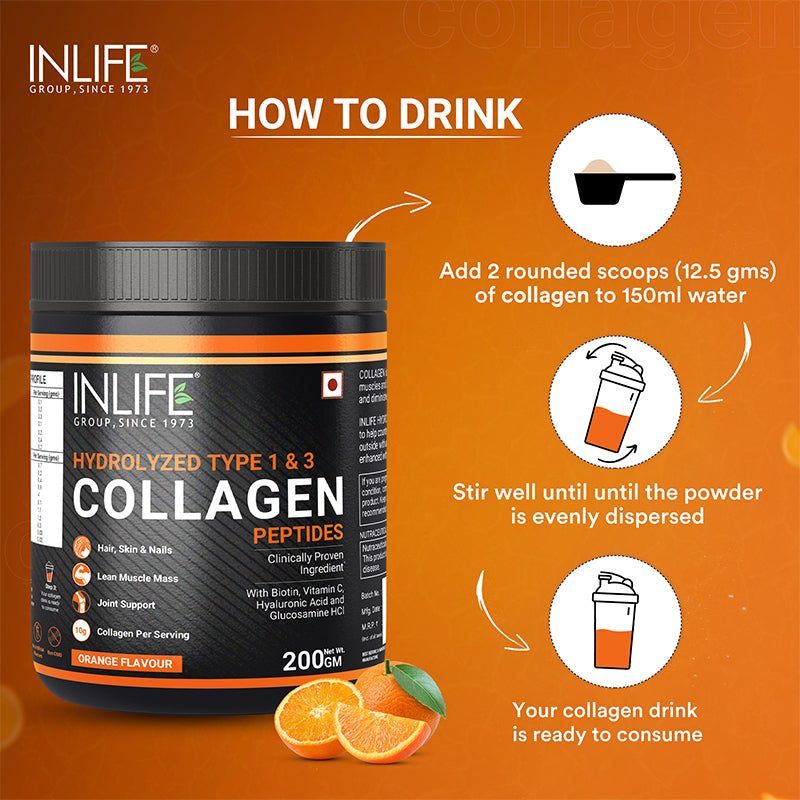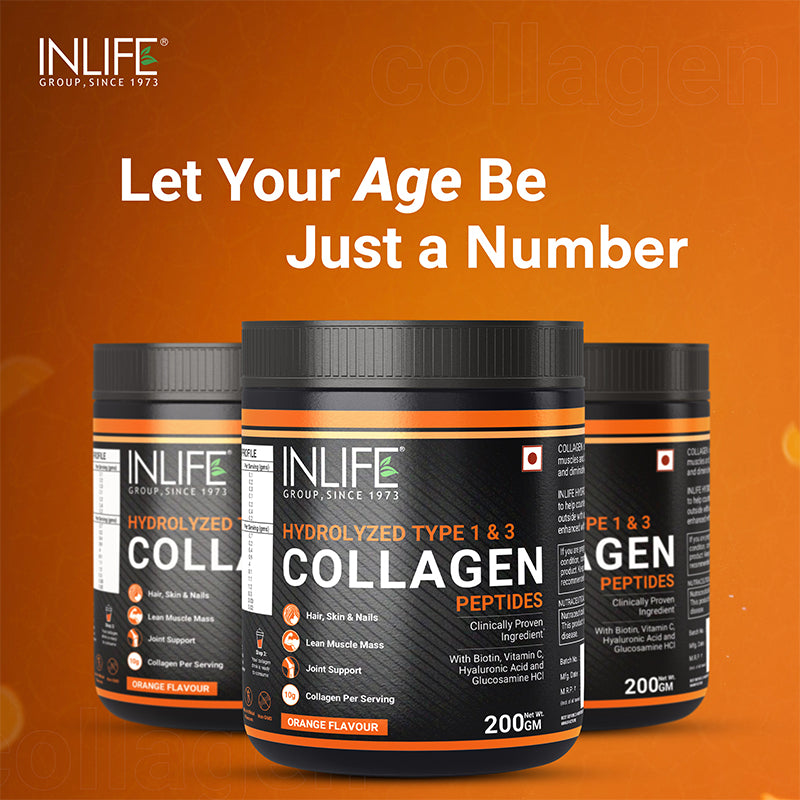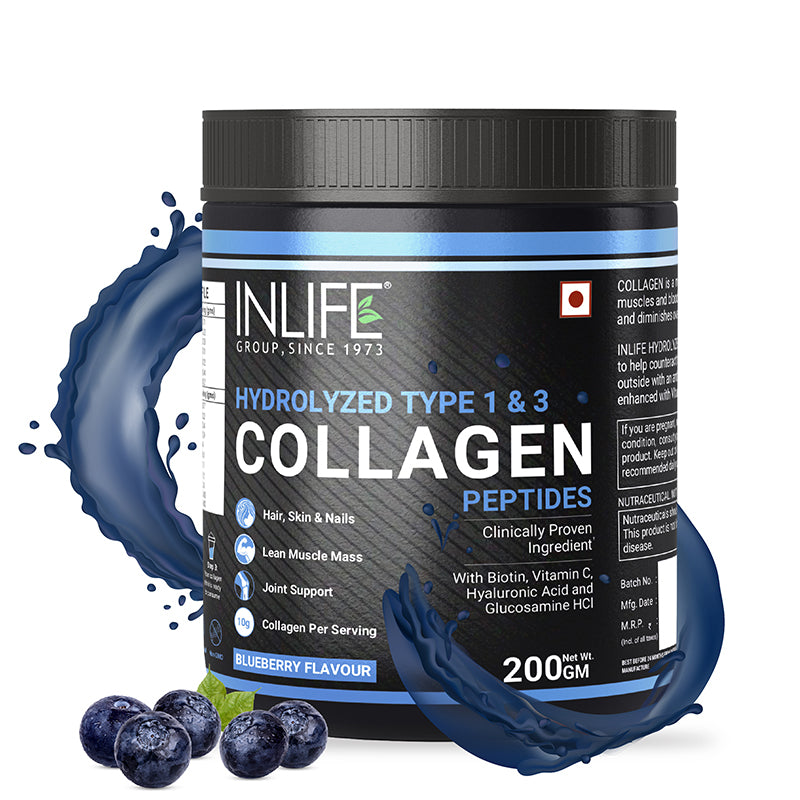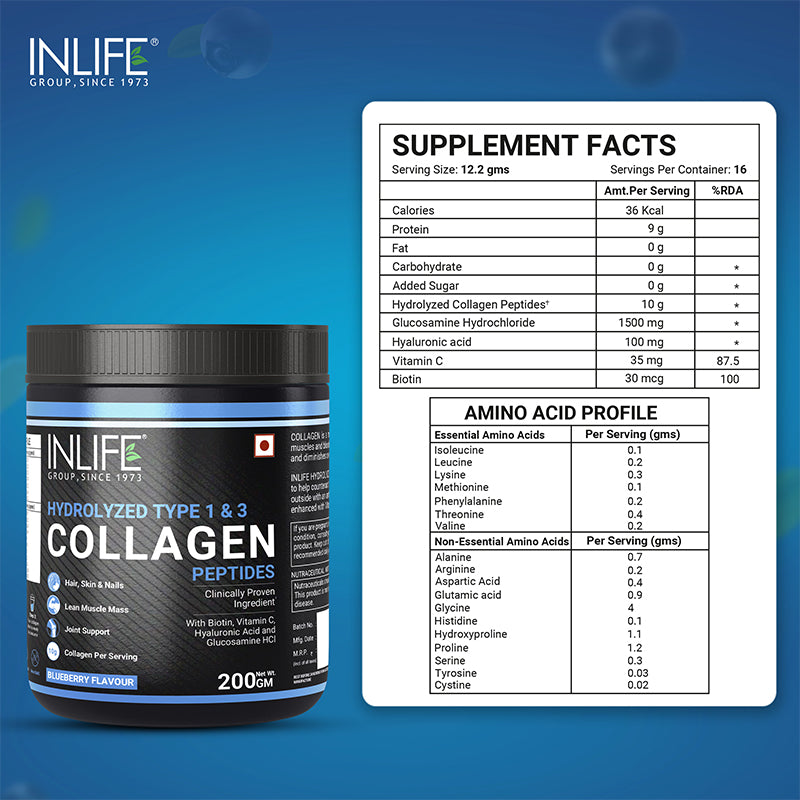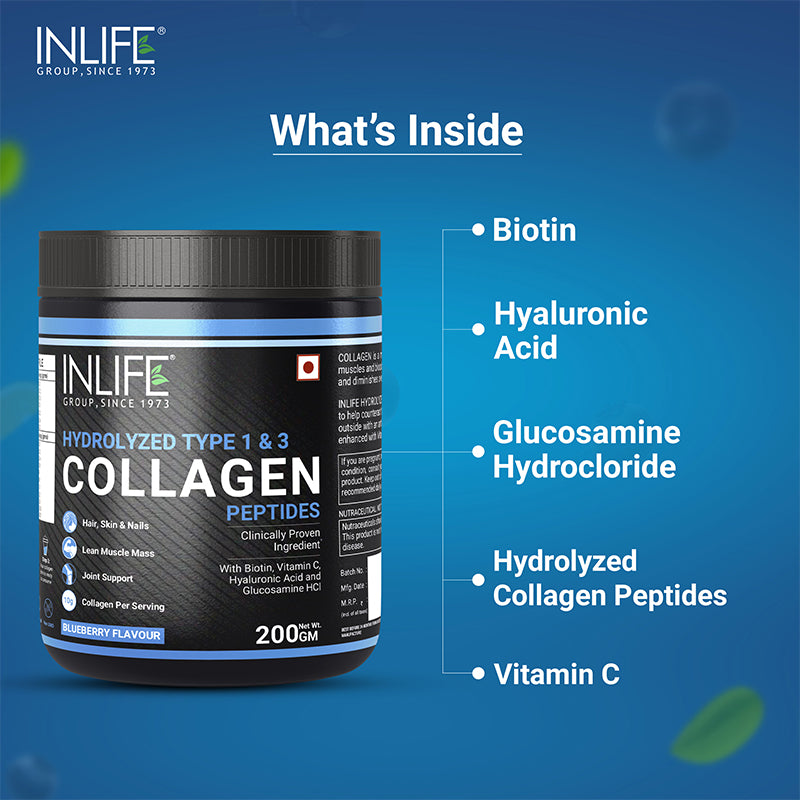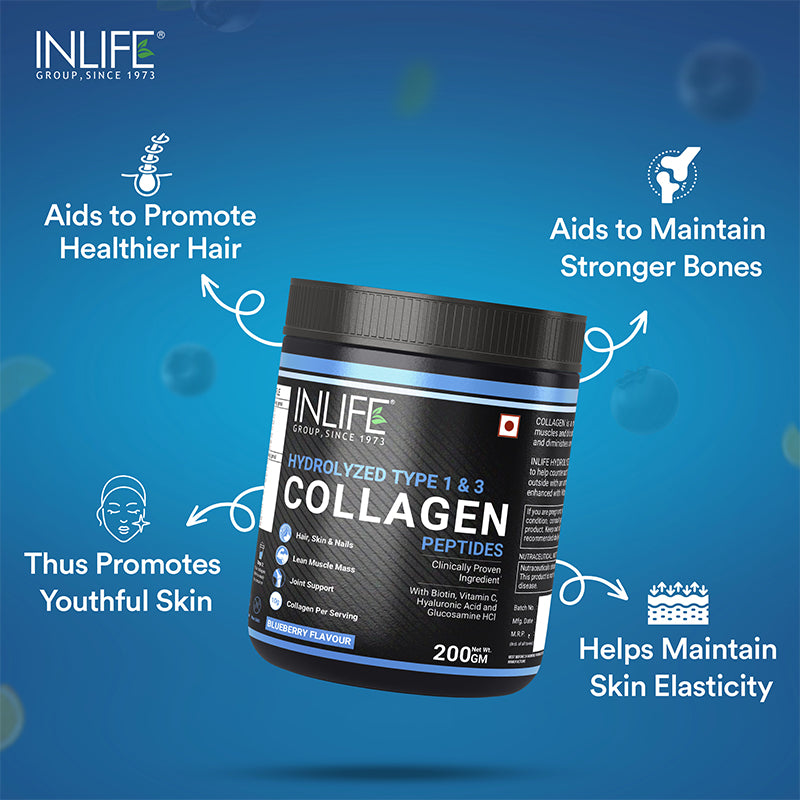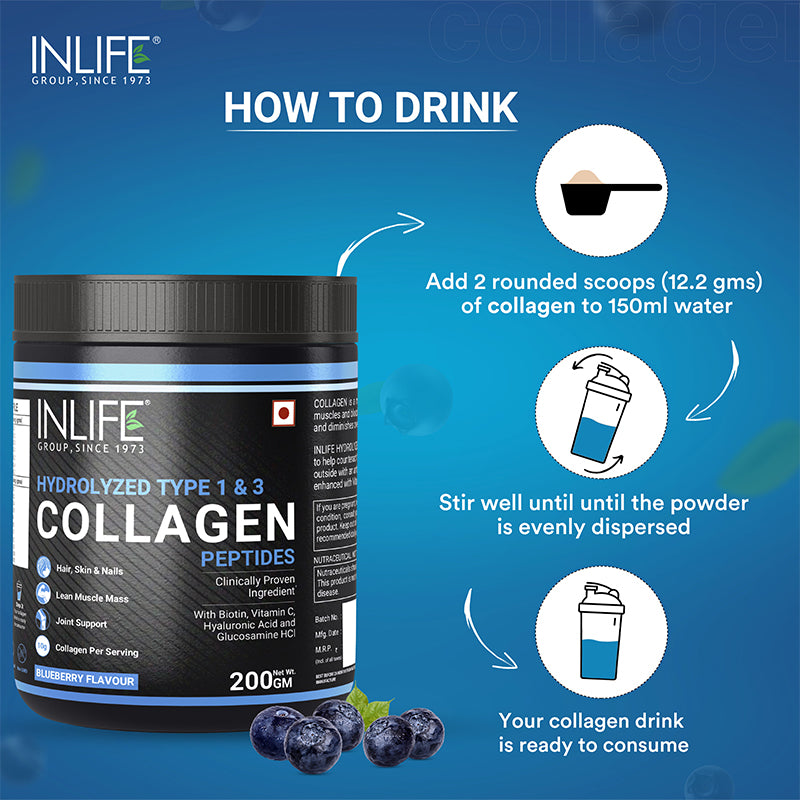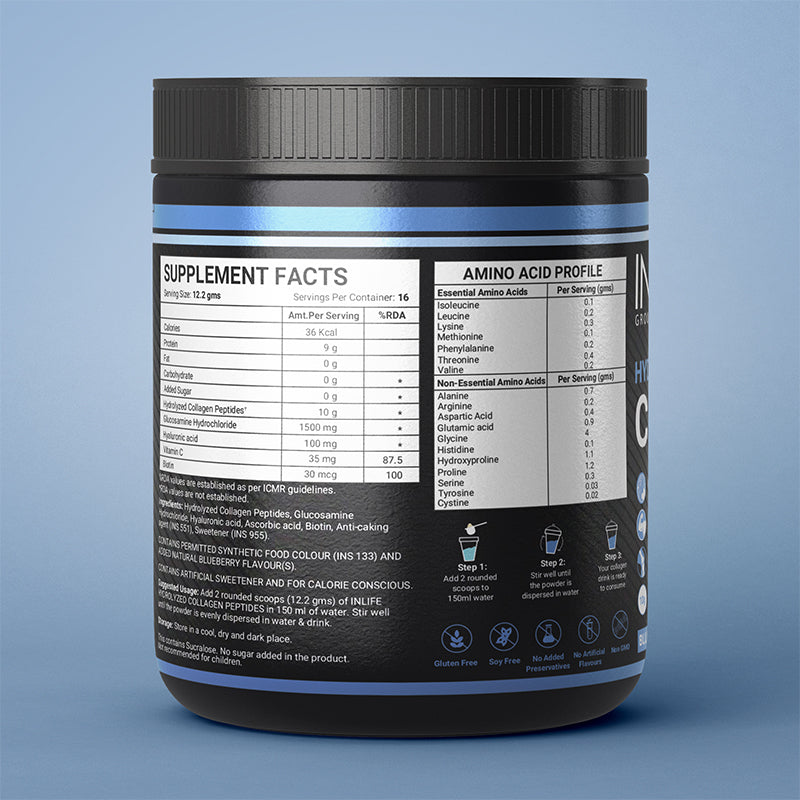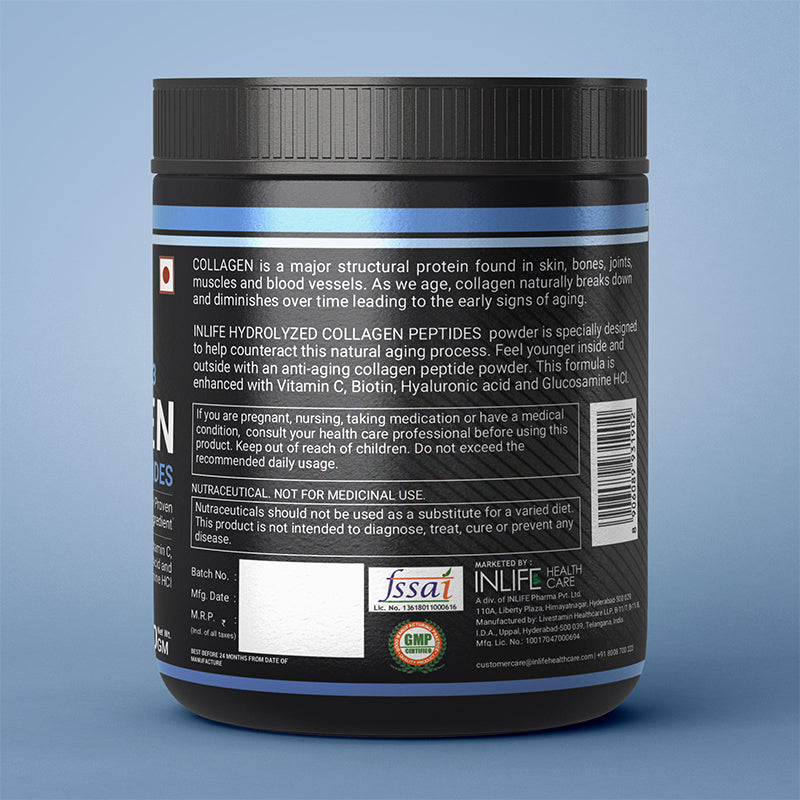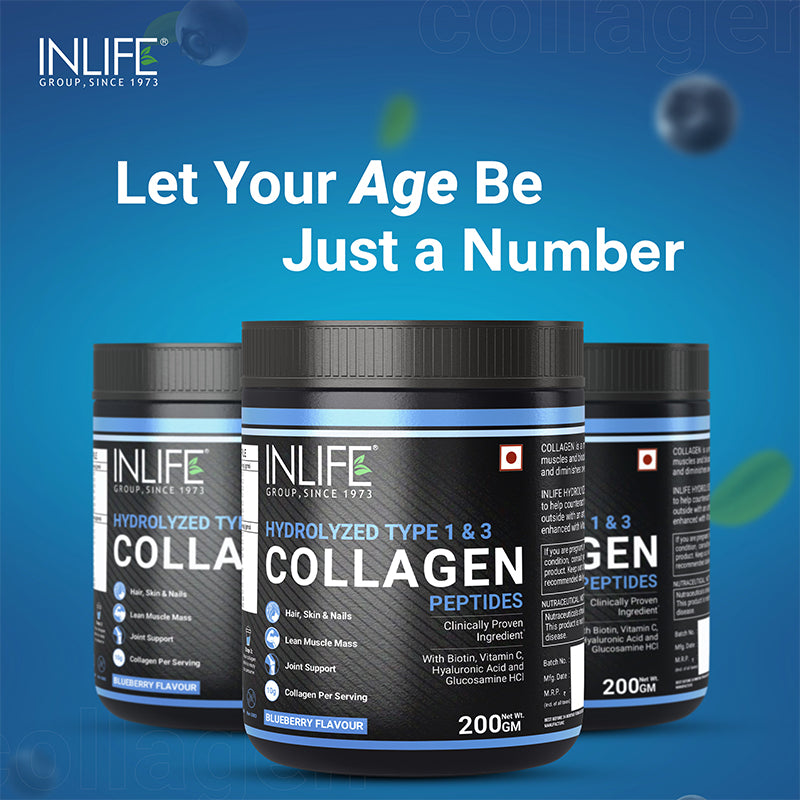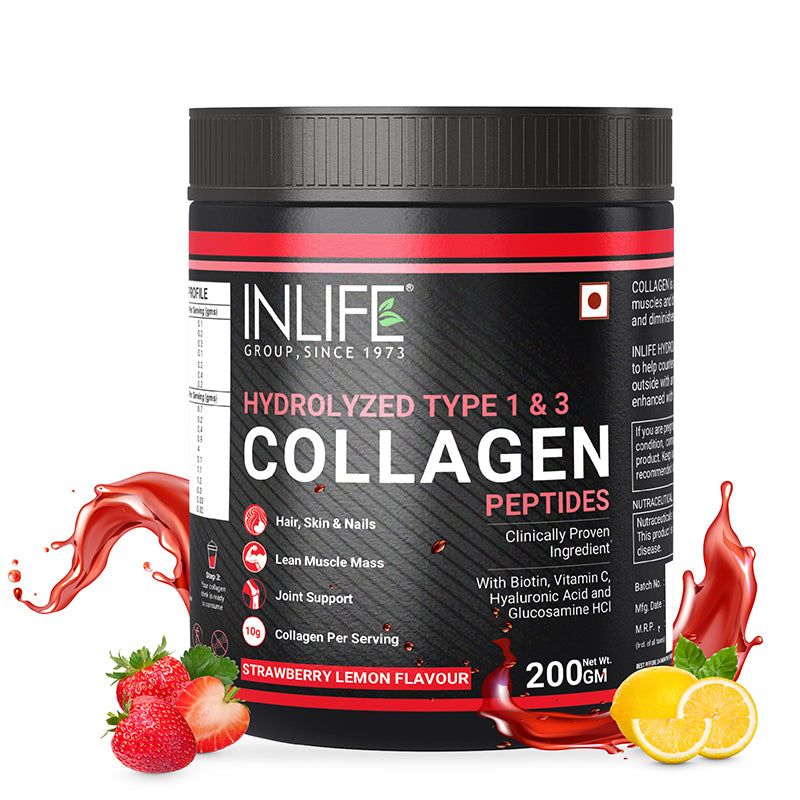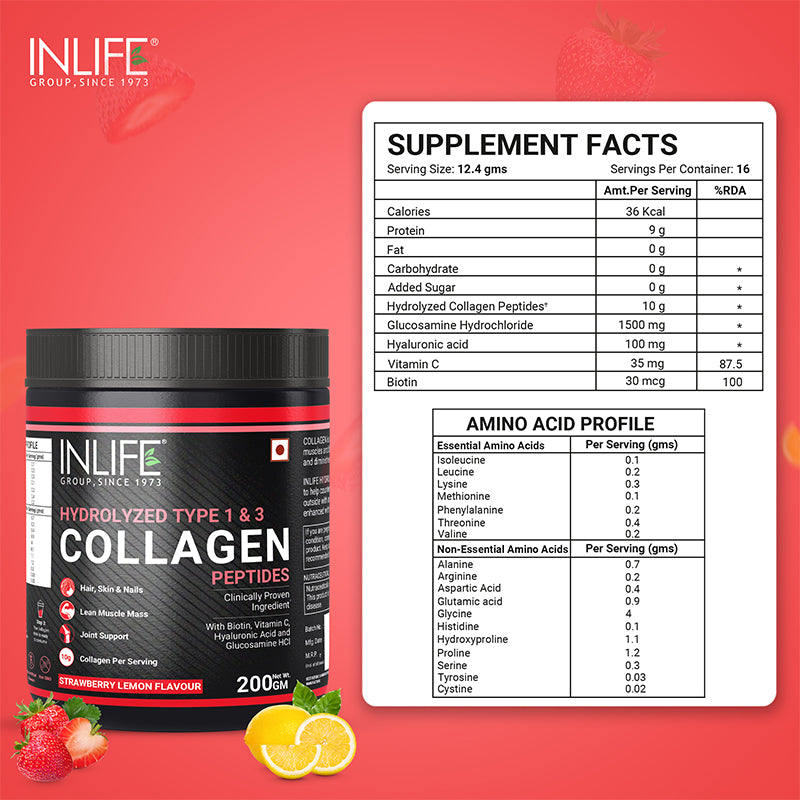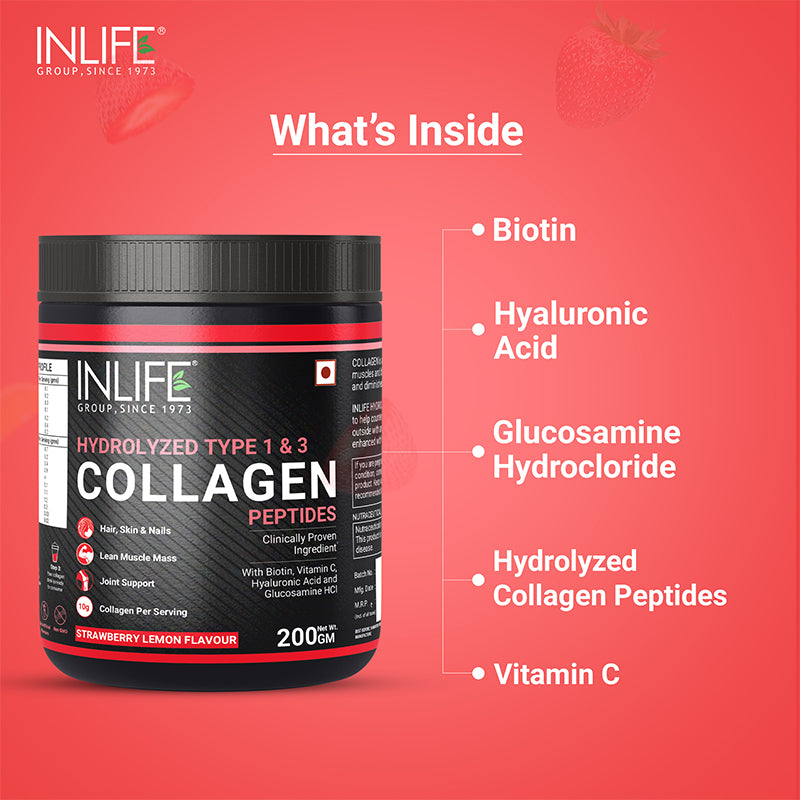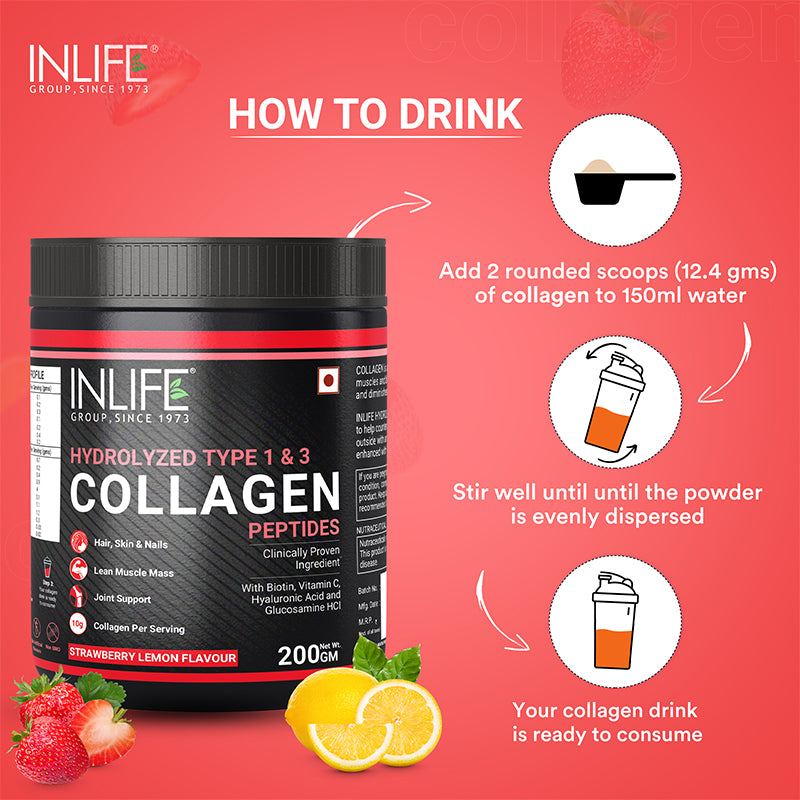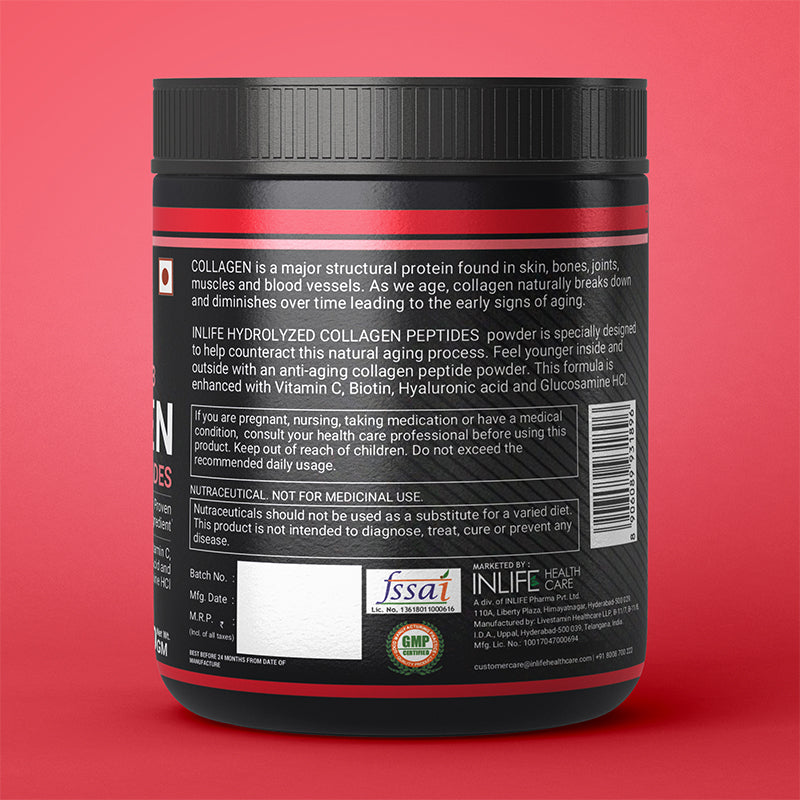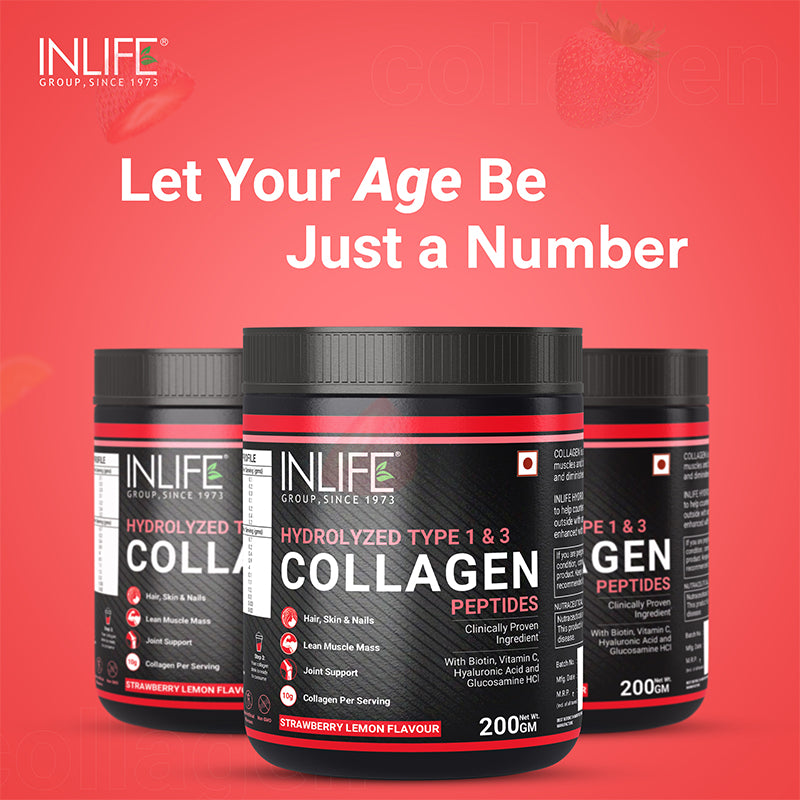 Sale price

Rs. 899.00
Regular price

Rs. 1,999.00
(/)
View details
our bestsellers
Popular Products
OUR NEWLY LAUNCHED PRODUCTS
Latest Products